Go Virtual: Zero to Paid
Go from only making money when you work to making money while you sleep.
Create virtual income streams so you can make more money with less overwhelm – all from home.
Go Virtual: Zero to Paid
Go from only making money when you work to making money while you sleep.
Create virtual income streams so you can make more money with less overwhelm – all from home.

Video Testimonial:
Meet VIP Coaching Client Tiffany of Pink Lucy Design House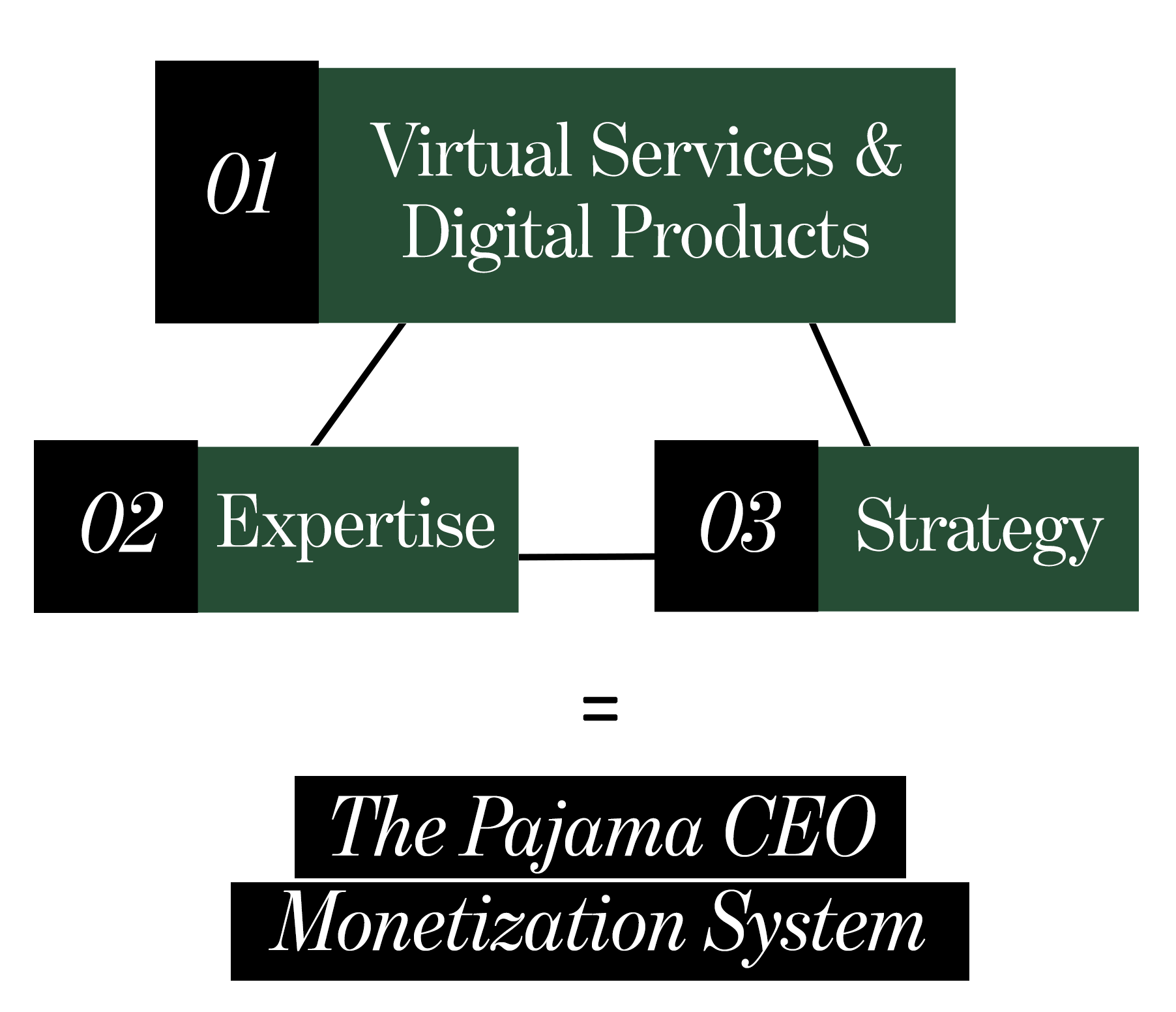 So you're ready to make a
BIG move

?
But you're

realistic

. You know that building new streams of income takes time and commitment. Now you're ready to START building yours so you can:
Have more income to enjoy your life 

Feel more secure by creating additional sources of income
Have a highly profitable business that you can run from home
Have income that doesn't require you to grind 60 hours a week
Get rid of the overwhelm from doing everything but the right thing
Feel good about building with a REAL business foundation
The Pajama CEO system will teach how to build out virtual income streams that you can quickly and easily monetize.
Are you ready to take things to the next level?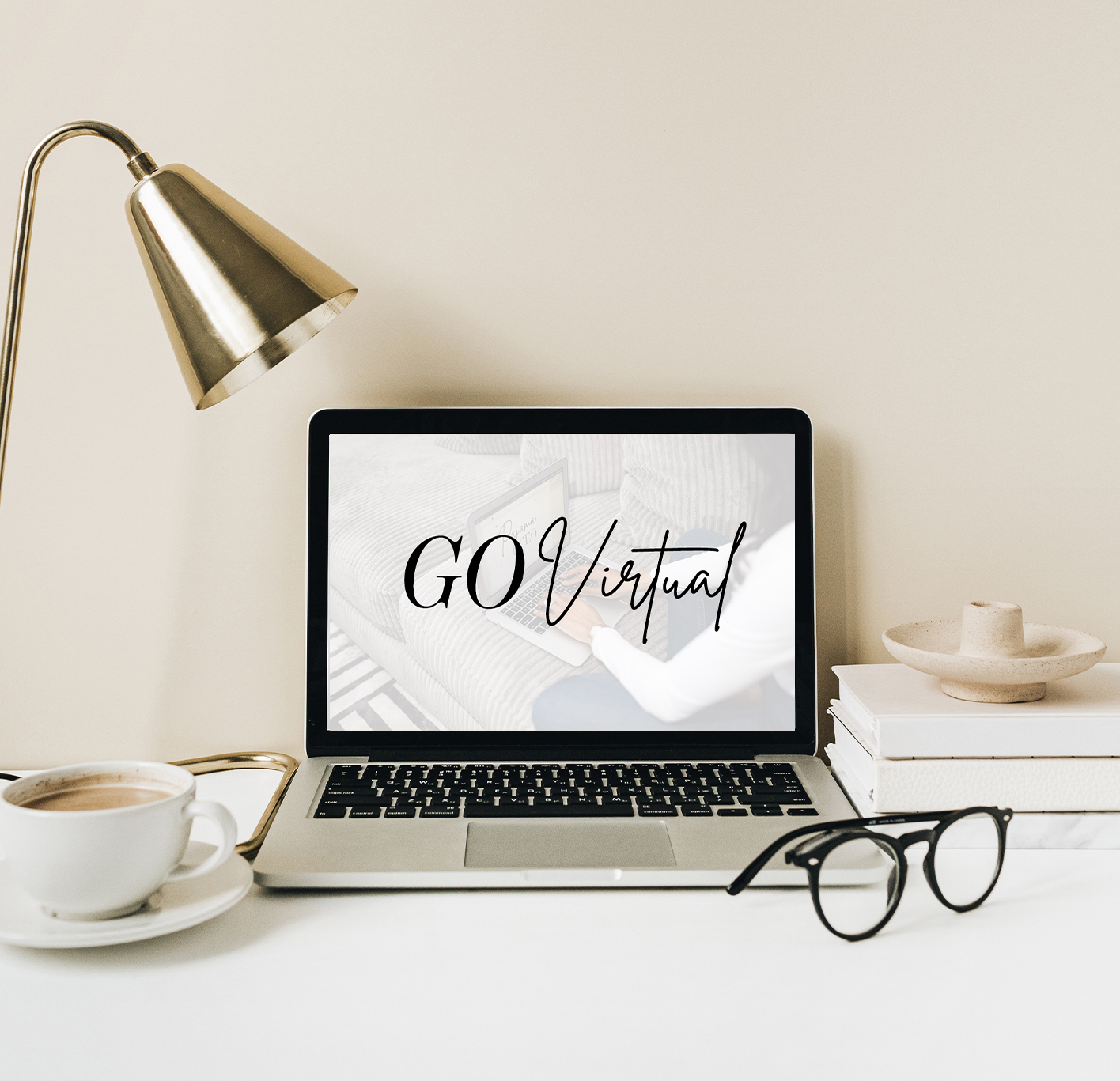 is a group coaching program that teaches you step-by-step how to monetize your skill sets and grow your business with virtual services and digital products.
You already may have some ideas and may even already be getting paid for them…
BUT
It's not a "real" income stream yet.
You don't know where to start to make this dream of making money from home a reality

Piecing together free information just isn't working anymore. You want solid business principles in To Do list fashion.

You want a one stop shop that gives you the roadmap and confidence to start building your online business.

You don't have extra money to waste on solutions that may not be what you need.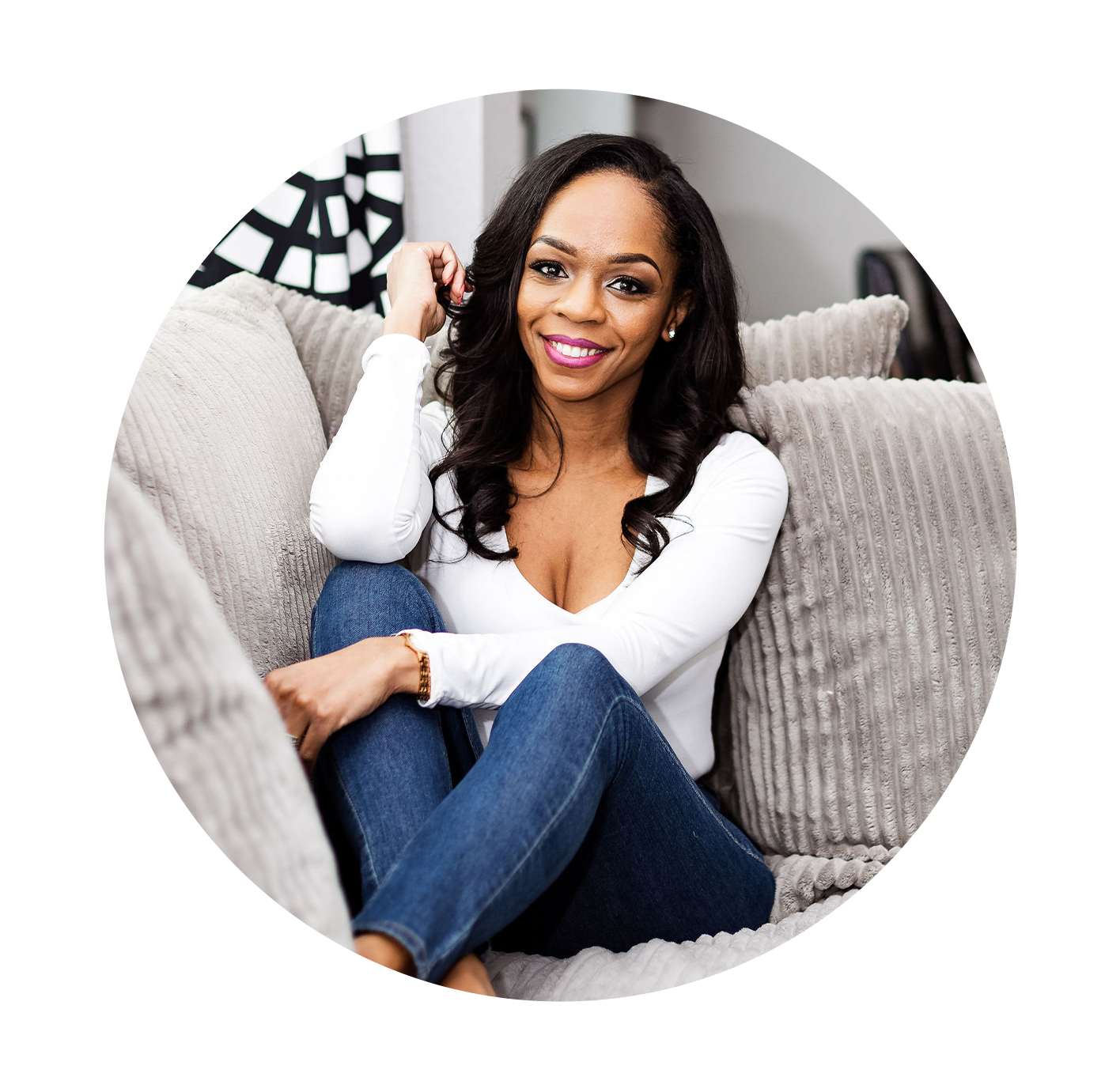 I get it because I used to be in the same position. 15 years ago I started my side hustle that eventually turned into a multiple six figure business. I was doing it alone, and even though I was successful, I was overwhelmed and wanted my life back. A combination of mentorship and lessons from hardships, helped me elevate.
And now I want to help you.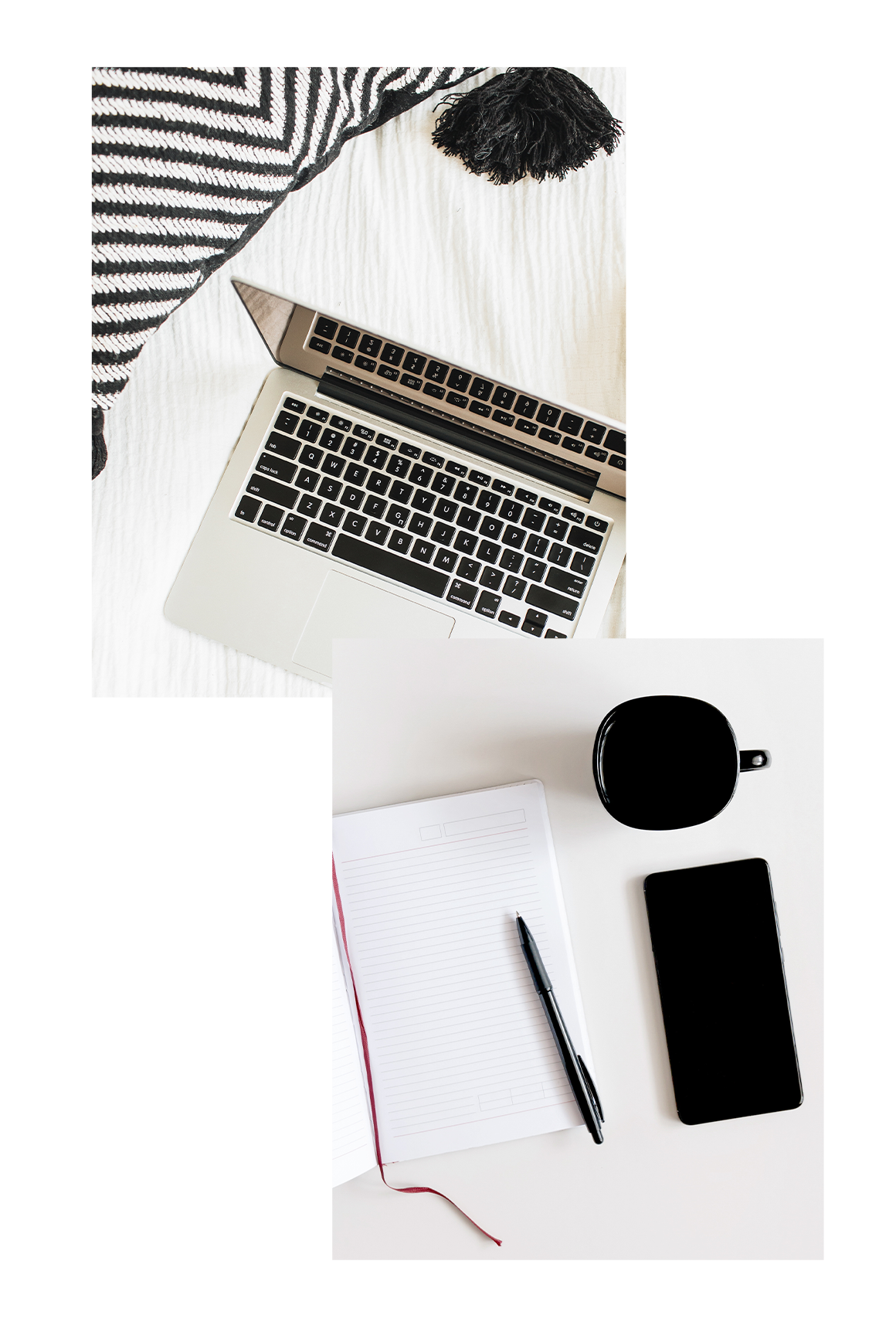 This is a 6 week group program designed to take you from A to Z to build your virtual income streams.  You'll learn everything from technical tools to business strategy and marketing.
Lessons are given in the form of pre recorded videos, audio lessons, and Live Q&A sessions with me.
You can go at your own pace, but if you follow the program your first stream will be built within 3 weeks.
By the end of this program you will have created the income streams you've been desiring to elevate your influence and your life. I'm not new to teaching others how to excel as entrepreneurs. Here's what others have to say:
Video Testimonial:
Meet VIP Coaching Client Atiya
Video Testimonial:
Meet VIP Coaching Client Janeil Pierre
Here's What's Included in the Program:
Get the

system

that gives you the roadmap, strategy, and framework to build a business that has

multiple streams of income

.
Module 1: The Foundation
We first gain clarity. Building a new business is far more than throwing a website up. This is the most important pillar of the foundation. We will address the mindset shifts that will help you execute at a higher level and attract income.
Module 2: Offers
Next, we'll dive deep and extract your genius. I'll teach you how to build virtual services based on your skill sets and expertise you already have. You'll learn how to choose and create the best digital products to build and monetize your brand. Then we will go over how to target the right clients. You'll know exactly what you should sell, why you're selling it, and who you will be selling it to.
Module 3: Build It
Learn the systems to create and build your new income streams. You'll also learn how to create digital products and get the tools you'll need to do so, step-by-step. You'll learn how to put it all together with ease. You'll learn my Signature Product Idea framework that results in you having a bucket of creative ways to continue monetizing your expertise.
Module 4: Branding
Learn the secrets to what really makes people click the buy button. You'll be surprised that it's not a fancy logo. You'll learn key principles in packaging your offer to appeal to your ideal client. You'll learn all about pricing and how to position your offer to attract clients ready to pay. Learn how to build a beautiful AND money attracting brand that makes selling your offers easy.
Module 5: Marketing
Learn marketing techniques for your new offer both on and offline. Social Media Marketing 101. I've created a fool proof Content Pantry System that will completely revolutionize the content creation process for you. You won't be wondering what to post once you do this. You'll learn the secret sauce of how to create social media content that converts likes into dollars.
Who This is For:
You know you have a skillset & knowledge that you can charge for, but you don't know where to start, how to package it, and then market it. 

You're already charging for a service, but you want to officially make it an online business and be more intentional about having virtual streams. 
You're ready to grow your business from the level you've gotten to alone. You want to secure your growth with business principles and guidance that will get you to the next level.
You want to leverage social media to sell your knowledge as digital products/services,  establish yourself as an expert, and build a personal brand. 
You don't want to just have a large following but no income to match. You want a brand that pays. You don't care about the likes. 
You absolutely KNOW that it takes more than 6 weeks to create a sustainable,  profitable business and you're willing to execute and put in the work.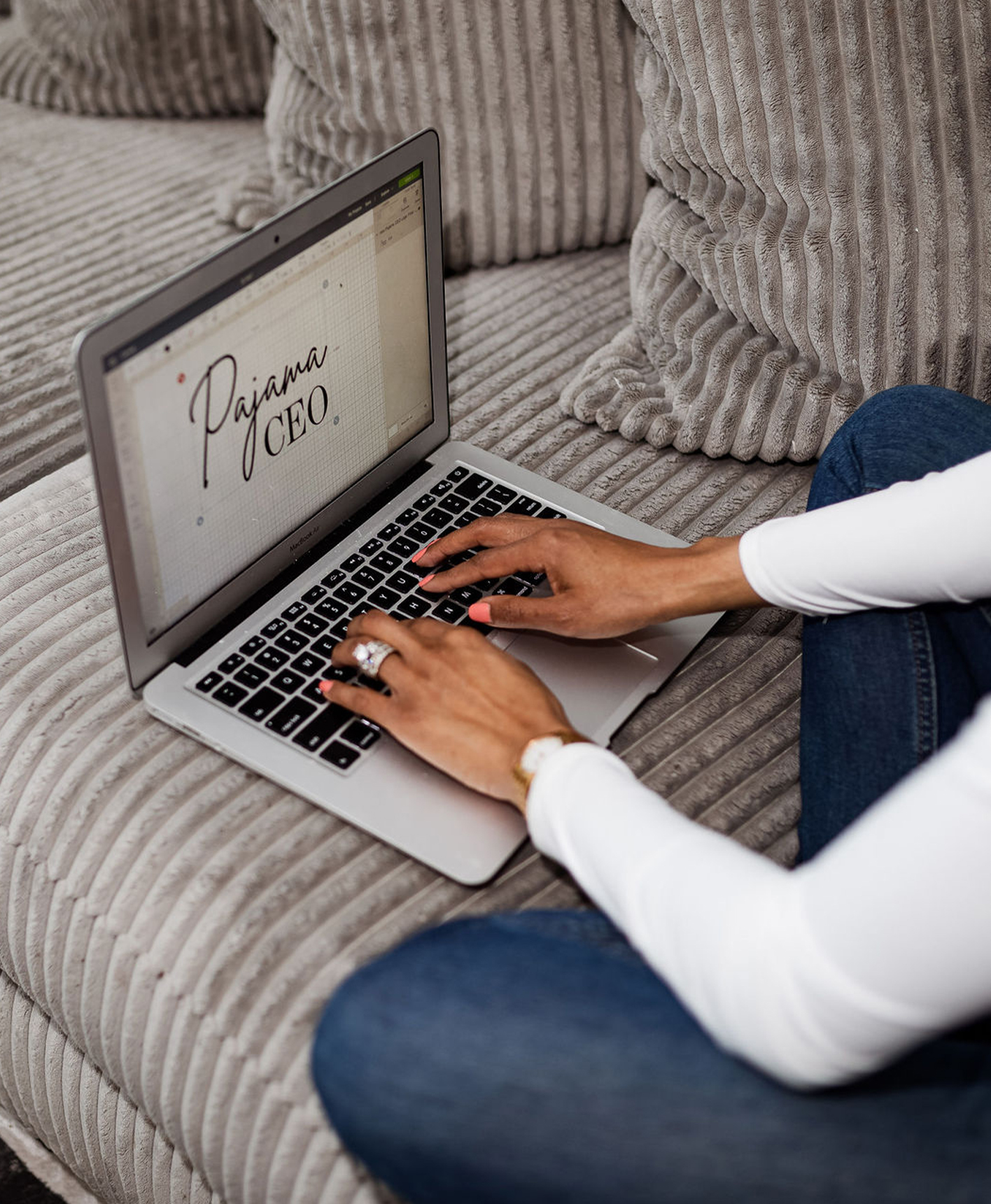 Great. Are you ready to elevate?
Bonus:
When you enroll now you also get my DIY Business Taxes 101 course for newer entrepreneurs that equips you to do your own business taxes, saving you hundreds of dollars in tax preparer fees and teaches you how to save up to thousands in business writeoffs.
– Value $197
Investment: 1 Payment $1,997 or 3 Payments of $733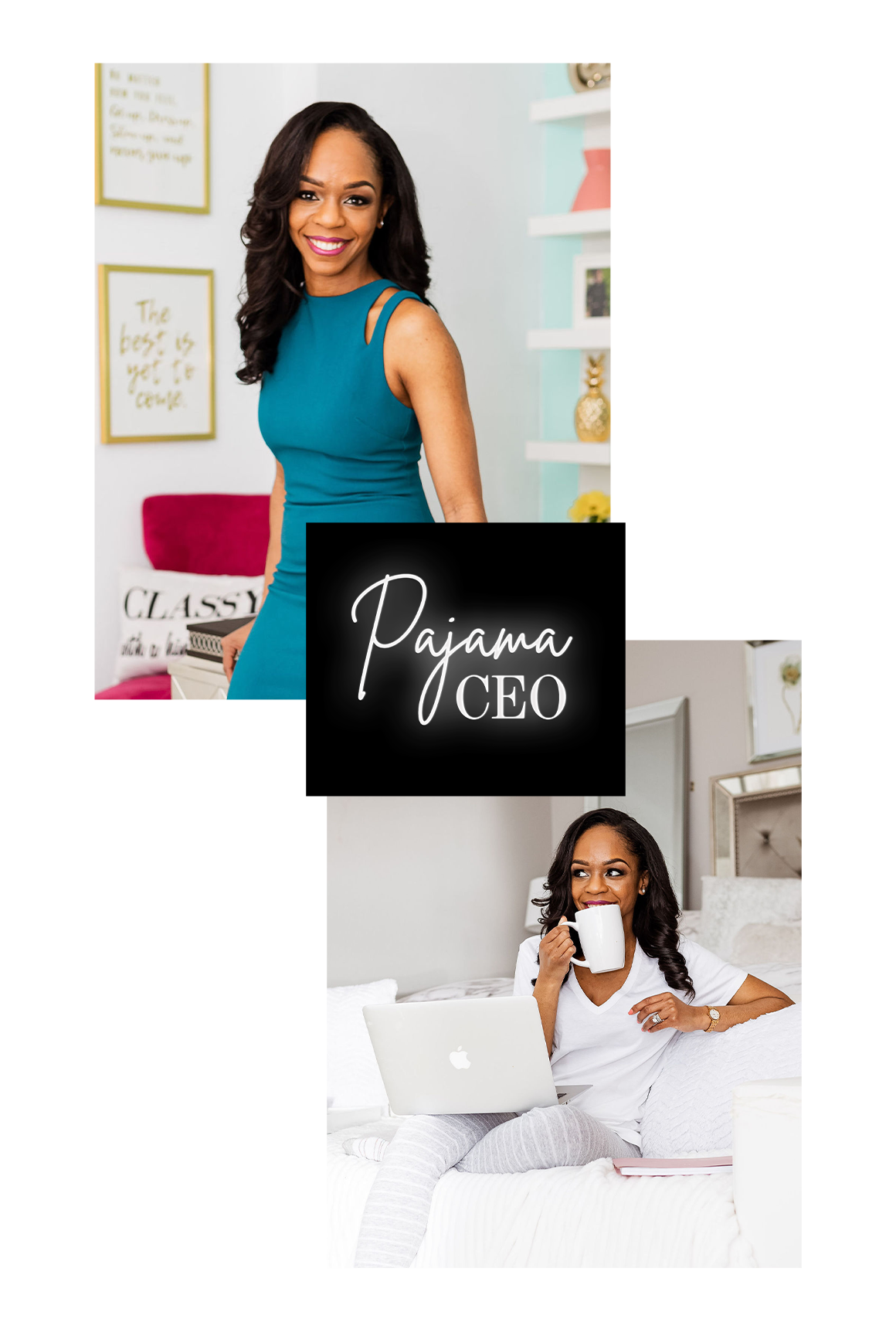 Meet Your Instructor
---
Fellow Pajama CEO, Terrie Chantel
Sounds weird for me to say, but I feel like I already know you. I tend to attract some pretty amazing people. Like me, you crave to do something bigger. Life for you is not just about a few extra bucks – it's about having a legacy and building something you're proud of. And even though an extra $5000 a month would make an impact – the freedom to enjoy it with those you love is what you're really chasing.
Listen, I get it. I spent 10 years in IT corporate America and 14 years building my tax firm chasing that same dream. I too went through a frustrating phase of tweaking and pivoting. And one day it finally came all together. I want you to know that it DOES one day come together – even when it feels neverending.
Let me be your guide to help it all come together. I know what it's like to just need a roadmap to the destination. Together, we can do this.
Enroll now before doors close. I only accept students once or twice a year.
Frequently Asked Questions
Who is this course for?
First and foremost, this program is for those who understand that success in business DOES NOT HAPPEN OVERNIGHT. If you're looking to achieve in days what actually takes a natural amount of time to achieve, then this program is not for you.
This is for current and aspiring business owners, coaches, consultants and service providers. This may not be for you if you've not once sold anything at all and are completely new to business on any level. But simple side hustles (like charging to bake cakes) counts.
How is the course delivered?
A combination of recorded lessons and live lessons taught by me. You will have access to any live lessons you may miss.
What if I change my mind after I purchase the course?
If you have done all of the work and find that this program wasn't for you, we will provide you with a refund upon viewing your completed work.
How long will I have access to the program?
You will have lifetime access to the content.
Do you have any idea that you literally have a Superpower to create the life you want? I'm serious.
I want to challenge you to THINK BIGGER- and then believe with every fiber inside of you that it WILL happen. Now is the time for you to take yourself up on the offer to change your life. That little urge that's tugging inside of you is there for a reason.
It's your time.